LASIK is one of the most popular laser vision correction procedures. It can provide you with complete visual freedom from glasses and contact lenses by correcting refractive errors.
These include nearsightedness, farsightedness, and astigmatism. But LASIK isn't the only vision correction procedure there is.
There's also PRK. PRK has a lot of similarities to LASIK since it can also correct refractive errors. While LASIK is more popular, it isn't for everyone.
Around 10-15% of patients don't make good LASIK candidates. However, some of those patients can qualify for PRK and still get the vision of their dreams. Keep reading to find out if PRK works if you don't qualify for LASIK!
LASIK
LASIK surgery works by reshaping your cornea. The cornea is the clear, front part of the eye that light refracts through before it hits the retina at the back of the eye.
When you have a refractive error, your cornea is somewhat irregular, making light refract differently before it hits the retina. This is why things look blurry at certain distances if you have nearsightedness or farsightedness or at all distances if you have astigmatism.
LASIK corrects the shape of your cornea to fix your refractive error, allowing you to see without needing glasses or contact lenses. LASIK uses two lasers: an excimer and a femtosecond laser.
An excimer laser removes corneal tissue to reshape your cornea. However, the excimer laser isn't used directly on the surface of your eye.
Instead, your surgeon will create a flap. They'll create an incision through the top part of the cornea to make the flap but leave enough tissue so it's still attached on one side.
They'll lift the flap and then reshape the tissue under the flap. The flap is then replaced where it acts as a natural bandage while your eye heals. Eventually, the flap rebonds with the rest of the cornea and doesn't need any stitches to do so.
However, your cornea needs to be thick enough to accommodate a flap to have LASIK. If it isn't, LASIK could be unsafe and damage your vision.
You'll have your cornea measured during a LASIK consultation. If it isn't thick enough, you won't qualify for LASIK. But you may still be able to get PRK.
PRK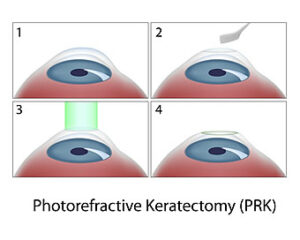 PRK is a laser eye surgery that predates LASIK and is the first-ever commercially available laser eye surgery. Like LASIK, it uses an excimer laser to reshape the cornea.
The critical difference is that PRK does not require a corneal flap. Instead of making a flap, the outer layer of the cornea, called the epithelial layer, is scrubbed off. After removing the epithelium, your surgeon will reshape the cornea.
After surgery, bandage contact lenses are placed on the eyes to protect them while the epithelial layer regrows, usually taking a couple of weeks. If you don't qualify for LASIK, PRK is a great alternative. It may have a slightly longer recovery period, but it has comparable outcomes to LASIK.
Outcomes of Having PRK
It may take several weeks before the epithelium grows back. Like LASIK, full recovery takes a few months.
Initial discomfort may last a little longer, as the corneal flap makes recovering from LASIK a little easier. You may experience some pain that lasts a few days after PRK, in addition to feelings of discomfort.
You will have to take special care to keep your eyes protected for a few weeks. But after that, your eyes will continue to heal, and your vision will continue to improve without further care or discomfort until you're fully recovered and reach your peak vision after a few months.
You may be more uncomfortable recovering from PRK as the epithelial layer regrows. But like with LASIK, your vision will continue to improve until your eyes are fully healed after around three months.
There is also a lower incidence of post-surgical dry eye in PRK patients, making long-term recovery less uncomfortable. The final surgery results are nearly identical, with over 95% of LASIK and PRK patients achieving 20/20 vision or better.
In the long term, the procedures have the same outcome, so it's well worth considering PRK if you don't qualify for LASIK due to the size of your corneas.
Who are Good Candidates for Laser Eye Surgery?
Corneal thickness isn't the only factor to consider if you get LASIK or PRK. For both procedures, you need to be at least 18, in good health, have a stable prescription, and have no other eye conditions besides a refractive error.
Your pupils also should be under a certain size as having large pupils can negatively affect your night vision after having LASIK or PRK. Before having any laser eye surgery, you have to schedule an evaluation.
Most patients who get evaluated will qualify for LASIK. If they don't qualify for LASIK only due to insufficient corneal thickness, there's a good chance that they'll be eligible for PRK.
If you want to know which procedure is best for you, schedule a consultation at Herschel LASIK and Cataract Institute in Orlando, FL, to see which laser vision correction procedure is the right fit! Don't let your glasses and contact lenses hold you back from living how you want for any longer!