Do you or someone in your family have keratoconus? Keratoconus is an eye condition that occurs primarily in younger patients, from children to teenagers and young adults.
It tends to develop slowly over a long time. Symptoms may not be apparent at first.
Regular eye exams, especially for adolescents, are essential in detecting the early signs of keratoconus. The earlier the condition is diagnosed, the more effective treatment can be. Although there is no cure for keratoconus, treatment can slow and even stop the progression of the condition. Keep reading to learn more about keratoconus!
Keratoconus
The word keratoconus derives from the prefix "kerato," which means "related to the cornea," and the suffix "conus," which means "a conical structure." As the full name indicates, keratoconus is a condition that develops when the cornea begins to protrude, changing it to a more cone-like shape.
The cornea is the clear, front part of your eye. The condition occurs as the cornea thins, making it gradually bulge out.
This process tends to happen very slowly and may take up to ten years. The more the cornea protrudes, the more conical it becomes and the more severe the symptoms.
What are the Symptoms of Keratoconus?
The primary symptoms of keratoconus include:
Blurry vision
Light sensitivity
Frequent prescription changes
Vision that quickly worsens
In the early stages, it may be possible to correct some of these visual errors with stronger glasses or contact lenses. But eventually, the cornea will bulge too much for regular contact lenses to fit correctly.
To avoid significant vision problems, you should see an eye doctor regularly for routine eye exams to receive the earliest possible diagnosis. You should also see your eye doctor whenever you experience worsening vision or other persistent visual symptoms.
What Causes Keratoconus?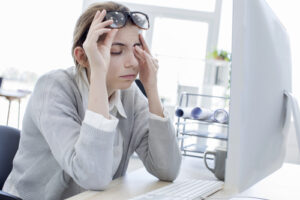 The exact cause of keratoconus is not known. However, what is known is that certain things can increase your risk of developing the eye condition.
Your risk of keratoconus increases if you have a family history of keratoconus. Your risk also increases if you have certain medical disorders like asthma, retinitis pigmentosa, Ehlers-Danlos syndrome, or Down's Syndrome.
You also may be at higher risk if you rub your eyes frequently. No matter how irritated your eyes feel, you should never rub them.
Rubbing them puts pressure on your eyes and may lead to bacteria from your fingers, causing an infection. Although rubbing your eyes doesn't directly cause keratoconus, it is associated with the condition.
If you have keratoconus, rubbing your eyes can lead to faster progression.
How to Treat Keratoconus
Keratoconus has no cure. Any thinning or bulging of the cornea is also irreversible.
Although you cannot reverse most of the effects of keratoconus, you can stop your cornea from continuing to protrude. During the early stages of keratoconus, your eye doctor may start by suggesting you use a stronger prescription and try hard contact lenses.
If the condition shows signs of progression, you can take steps to slow it down. There are several treatment options for keratoconus.
Which treatment you receive will depend on the severity of your symptoms. You may also undergo a combination of treatments.
Treating Keratoconus Using Corneal Cross-Linking
For many patients, one of the most effective ways to treat keratoconus is using a method called corneal cross-linking. Corneal cross-linking can help reduce protrusion of the cornea while slowing down the progression of keratoconus.
This therapy involves depositing riboflavin eye drops onto the eye's surface. After your eye doctor administers the eye drops, you'll have UV light shined into your eyes.
Corneal cross-linking strengthens the collagen fibers that make up the cornea, making it harder to stretch out further. Cross-linking both strengthens the collagen fibers and stiffens the cornea.
In addition to corneal collagen cross-linking, or any procedure designed to stop the cornea from further protrusion, you will still usually have to continue wearing a stronger prescription and special kinds of contact lenses.
Specialty Contact Lenses and Intacs
There are particular kinds of contact lenses besides standard soft contacts that can fit the conical shape of the cornea. Specialty contact lenses that treat keratoconus are customized for each patient to fit the specific curvature of their eye.
These may be scleral lenses, RGP lenses, or hybrid contact lenses. In addition to these contacts, you can have implants called Intacs placed in the eye.
Intacs can help correct the conical shape of the eye by holding it in a more dome-like position while making it harder for the cornea to bulge further. Intacs are permanent, but if your vision changes, you can have them removed at any time.
Topography-guided PRK
In more severe cases, where the shape of the eye has undergone drastic changes, you may be a good candidate for laser eye surgery. Topography-guided PRK uses topographic measurements of the cornea to reshape the cornea.
Although it cannot reverse protrusion of the cornea that has already occurred, it can help you see better. Reshaping the cornea's surface corrects how light refracts through it, compensating for its irregular shape.
Conductive Keratoplasty
The most severe cases of keratoconus may require a corneal transplant or keratoplasty. But there's also a newer form of treatment for some keratoconus cases that don't need a donor cornea.
This procedure is a conductive keratoplasty. Conductive keratoplasty is a minimally invasive procedure that uses high-frequency radio waves to shrink corneal tissue to reshape it.
If you have keratoconus, you'll almost certainly need more than one form of treatment. If you have a procedure that stops the cornea from protruding or corrects its shape to an extent, you'll still likely need special contacts.
But while you can't cure keratoconus, some combination of these treatments will be able to improve your vision and prevent further progression of the condition. The best thing you can do is stay vigilant about your eye health and have regular eye exams so you can diagnose and treat any sign of keratoconus or any other eye conditions as soon as possible.
Want more information about how to treat keratoconus? Schedule an appointment at Herschel LASIK and Cataract Institute in Orlando, FL!